EDIT (October 2011): It's come to my attention that I've been cited on the DH2 score's Wikipedia page as a music critic. I just want to confirm that I am NOT a professional writer, just a curious and passionate fan.
Late last year we heard rumours that John Williams would return to the Harry Potter franchise to compose the final Potter film, which I wasn't particularly writing home about. I've actually not been much of a Williams fan in the Potter series ("Hedwig's Theme", "Fawkes the Phoenix" and the Prisoner of Azkaban score notwithstanding). However, it was later announced that Alexandre Desplat would stay on for Part Two.
After all, it just makes sense to finish what you've started.
I wrote my review of Harry Potter and the Deathly Hallows, Part One in April. I thought Desplat's score enhanced the film wonderfully, and I was confident that Part Two was in sensitive and capable hands. Listening to Part Two now, I can happily back that prediction.
Part Two's promotional teaser simply reads, "It all ends". Where there was a thread of foreboding in Part One, now the emphasis is on the finality, in every sense of the word. As I mentioned earlier, Part One is degrees above previous films in maturity and scope; Part Two certainly doesn't erode what Part One established – in fact, it only unapologetically amplifies the epic scale, which seems uncharacteristic of Desplat at first, but he never loses grasp of the emotional complexities of the story – its pervasive themes of death, loss and renewal.
"I think the goal was to find something as gentle, as sweet, and as kind as a lullaby with a guilty touch to it. It's a very simple melody that anyone can hum, child or adult, and we found this incredible singer, Mai, who has a very pure voice, almost like liquid gold.  So it will haunt the film and Harry all along the last episode."

—Desplat on creating "Lily's Theme" (Credit: The Leaky Cauldron)
The outstanding highlight must surely be "Lily's Theme" – a new overture that much like its namesake cocoons itself around Harry. I can only describe it as indescribably, devastatingly Desplat. It's a haunting melody, laden with fragility and tinged with sadness; it cements the tone for the rest of the film and is instantly memorable. It recurs in dramatic instances: "Snape's Demise", "Voldemort's End" and most movingly, "The Resurrection Stone", which I consider Desplat's magnum opus in this score. It is four minutes and thirty-three seconds of sheer aural perfection. Soulful strings lull "Lily's Theme" along, with solo vocals by Mai Fujisawa, whose voice is strikingly pure and arresting. You may know that Fujisawa is the daughter of Japanese composer, Mamoru Fujisawa (or more famously, Joe Hisaishi of Studio Ghibli fame). She has sung themes for Nausicaa, Princess Mononoke and Ponyo, but I didn't recognise her here.
Familiar themes return from Part One – "Underworld" hints at the "The Locket", a fitting motif for the continued hunt for Horcruxes. The "Obliviate" cue recurs in "Harry's Sacrifice" and "Harry Surrenders" as Harry learns of his doomed fate, but welcomes it openly. New motifs are introduced during the Battle of Hogwarts – "Panic Inside Hogwarts", "Statues", "Battlefield" and "Courtyard Apocalypse" convey the anticipation, the thrills and the devastation of the war in sombre, lyrical fashion. Similarly, "The Grey Lady" has meandering, ghostly moments of poignancy and scintillating suspense as Harry attempts to win Helena Ravenclaw's trust so that she will reveal to him the whereabouts of a Horcrux hidden inside Hogwarts' walls.
Harry's best friends, Ron and Hermione, finally have some off time to themselves in "In the Chamber of Secrets" in which Hermione destroys a Horcrux of her own, and is then snogged by Ron (about time!). It's a momentous occasion for fans like me, so I'm deeply disappointed that Ron and Hermione don't get their own theme. Ten years of angst and misunderstandings and they don't even get a theme?! Even Harry and Cho got "The Kiss" theme! That said, their pivotal moment does use a leitmotif from Part One's "Ron's Speech" which I officially dub the unofficial Ron and Hermione theme. Meanwhile, lucky Neville gets two themes to himself: "Neville" and "Neville the Hero", the latter clearly outweighing the former. It's a quietly triumphant theme, echoing its namesake's endearing transformation from the fumbling, somewhat dim first year to a great, brave hero in his own right, a hero whom the Sword of Gryffindor itself deems worthy of wielding it.
"This theme is crucial to the success of the story, and it would have been disrespectful and stupid for me not to use it at the crucial moments where we need to refer to these ten years of friendships that we've all had with these characters and kids…"

—Desplat on using "Hedwig's Theme" (Credit: The Leaky Cauldron)
Williams' iconic "Hedwig's Theme" also has more prominence in Part Two. Desplat reasons that as much of the film takes place inside Hogwarts, and given that the theme is so quintessential to Harry's childhood and connection with the school, it had to be included. It is incorporated to varying effect in "Dragon Flight", "A New Headmaster", " In the Chamber of Secrets", "The Diadem", "Snape's Demise", "Harry's Sacrifice" and "Procession". My favourite interpretation of the theme is in "Snape's Demise", which curiously blends "Lily's Theme" into it too.
Speaking of Snape, the unfolding of his mysterious past has great significance and plays a monumental part in resolving the story. Through Harry's eyes, we discover that what we always outwardly saw as someone antagonistic, quite possibly maybe evil, was in fact the most emotionally tragic character. Severus Snape loved deeply and wholly and died for doing so. We catch glimpses of Snape's past in "Severus and Lily", a dreamy, ambient montage of memories, made more devastating by what we already know of Lily's tragic end.
Indeed it is a grand ending that we've so anxiously waited for. I get apprehensive when Desplat tackles high-handed action scenes – they remain his weakness – but he plays a deft hand in Part Two. "The Tunnel" is just the entrée in this feast of flavours, but it's an exhilarating starter.  "Underworld" is the most chaotic composition – multiple listenings tend to singe ears. "Gringotts", "The Diadem" and "A New Headmaster" are deceptively simple with an initial hint of danger, with the latter opening up as Harry confronts Professor Snape at Hogwarts. "Dragon Flight" is a brilliant ride, almost childlike in its exuberance, which is much in the essence of Williams' 'flighty' themes like "Fawkes the Phoenix" and "Buckbeak's Flight" of earlier Potter films. "Broomsticks and Fire" is similar to that effect, as Ron, Harry and Hermione rush to escape the Fiendfyre that sets the entire Room of Requirement aflame.
Desplat flexes his epic, operatic muscles in the final act, when we really feel the intensity and urgency of the ultimate duel between Harry and Voldemort, which Desplat's orchestration magnificently brings to life in "Showdown" and "Voldemort's End". "Showdown" is a tumult of brass and strings and thumping timpani, topped by the sweeping grandeur of the London Voices choir. Similarly, the great crescendo in "Voldemort's End", which meanders into the haunting whispers of "Lily's Theme" at the end, is just breathtaking. And if that heart-stopping climax hasn't killed us already, "A New Beginning" gently drops us back to the ground, ending on a pensive, wistful note filled with hope and promise.
As a great Harry Potter fan and a great Desplat fan, I couldn't be more pleased with Desplat's effort, and I am so grateful that he was given this rare opportunity to work on something so fantastic and huge as Harry Potter. Just think – we NEARLY got John Williams again (if there wasn't a schedule clash)! I have such tremendous admiration for Desplat that it's probably borderline obsessive – he treats music as a serious craft, he's modest about his own work, he's open to any creative possibility, he respects his peers in the field and as a bonus he has read and loves Harry Potter. What's not to love about the man? I wish I could be just as dedicated and talented. It's not a surprise that most of my favourite films have incidentally been composed by Desplat.
Although Part One had some great moments and wasn't nearly as memorable, Part Two holds us captive from its tenuous beginning to its victorious end. While there is no doubt John Williams' "Hedwig's Theme" will ineffably define the Harry Potter franchise for years to come, Desplat has proved to be a formidable force in the success of the Deathly Hallows films, seamlessly blending emotional nuance with action-packed grandeur. He has, in short, created a satisfying and richly layered aural landscape that I will always love coming back to.
In a word: epic
Key tracks: Lily's Theme, Courtyard Apocalypse, The Resurrection Stone, Showdown
Rating:
Next up will be my thoughts on the Harry Potter and the Deathly Hallows, Part Two film. I'll end this post with something for you to feel nostalgic over – Alexandre Desplat conducting "A New Beginning":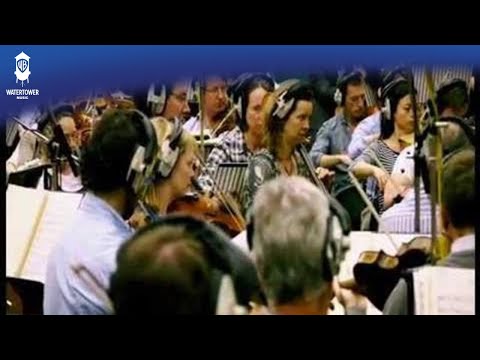 You can also listen to an interview with him here. And there is FilmTracks' more technical and stylistic review – I agree with much of the consensus; it's worth a read!
Tracklist
Lily's Theme 2:29
The Tunnel 1:10
Underworld 5:26
Gringotts 2:24
Dragon Flight 1:45
Neville 1:41
A New Headmaster 3:26
Panic Inside Hogwarts 1:54
Statues 2:24
The Grey Lady 5:51
In the Chamber of Secrets 1:38
Battlefield 2:14
The Diadem 3:08
Broomsticks and Fire 1:24
Courtyard Apocalypse 2:00
Snape's Demise 2:52
Severus and Lily 6:08
Harry's Sacrifice 1:58
The Resurrection Stone 4:33
Harry Surrenders 1:31
Procession 2:08
Neville the Hero 2:17
Showdown 3:38
Voldemort's End 2:44